Email Checker
Is this email address really working?
You regularly experience failures when sending emails? Failures such as non valid recipients or any other server issue? What would you do in those situations? Wouldn't it be better if you could just check any email address for its existence or any related issues?
Verify an email address without sending email
G Suite.Tools now provides you this free email checker. In just one click, no email sent, you can check whether an email address really exists and if it's actually valid. You'll also be able to confirm if your own email ID has been specifically blocked by other recipient or mail servers. To do so, just insert your email address in the optional sender's address field. Thus, our server will use your address as the sender's identity when communicating with the recipient's SMTP server. This is definitely your best tool to validate your own addresses and be sure to never miss one email.
Quick How-To
Just enter the email address you want to check anonymously in the first field and the 'CHECK' button. If you don't mind about anonimity and you want to SMTP test a recipient specifically against your sender's email address, please fill in the optional second field. In any case, no email will be sent by G Suite.Tools's SMTP tester.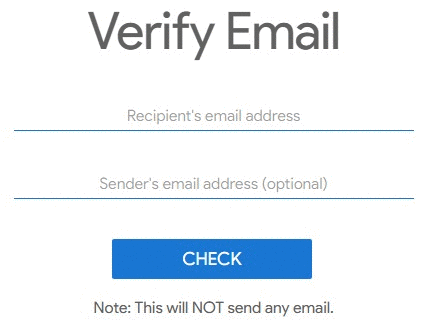 After a few seconds, you'll get the complete copy of the SMTP communication that just happened between our server and the remote recipient's email server.
Results
G Suite.Tools' email verifier uses the SMTP (Simple Mail Transfer Protocol) protocol to communicate with the recipient's mail server and simulate the transfer of a message. It will stop the transaction before sending any data to the recipient's inbox.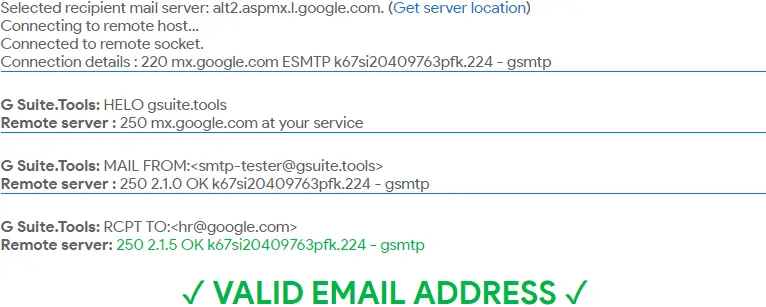 In the first response block, you'll discover the details about the SMTP connection attempt and status. If the communication goes further, you'll notice in the second paragraph how both servers greet each other. The following step is interesting as G Suite.Tools SMTP server defines the message sender's identity (by default 'smtp-tester@gsuite.tools'). This is already a piece of information that you can customize by filling the optional sender field in the inputs.
At last, but actually the most important, in the fourth and last block, you can analyze the response code that the remote server gives us when we try to write to the recipient email address you defined. You'll encounter dozens of them. But, remember that a response n°250 will be the best guarrantee that the recipient address is actually valid and ready to receive emails. Any 250 positive response gets colored in green to ease the results' analysis.
All the other response codes are presenting you with light-to-critical issues about this precise LDAP (the part before the '@'). A 550 response likely means that the recipient couldn't be found on the remote server. You may double check the spelling and formatting of your contact (e.g. in Gmail or Outlook databases).
Accurate
The tool uses 3 levels of verification to bring you mneaningful results on the table. Any email address verification starts by a syntax examen to assure you entered a semantically correct address. Then, the domain name of the recipient's address passes a MX records check to confirm the existence of a receiving email service to start communicating with. Last but not least, the complete email address recognition is finalized through the entire SMTP communication between both servers, which we explained above. All 3 levels of verification ensure that the tool provides a result of at least 95% accuracy.
Fast
If you already tried it, then you already enjoyed its speed. Within seconds, you are presented with the result. It doesn't even depends on your connection.
Anonymous
You can see that the tool is not requiring any of your personal information or email address to perform the verification. Though you can input your own email ID to optionally customize the sender email address, no other details need to be shared. This gives you total anonymity as no logs are stored on our side. GSuite Tools's server is communicating directly with the remote server in order to do the job for you.
Happy email checking!
Tips
Perform a DNS Lookup to discover all the mail servers of any domain name.
When we find at least one remote mail server, we provide you with a one-click access to all its geo-information thanks to our IP Locator.