WHOIS
Why would you 'WHOIS'?
Did you ever wonder who or which entity owns and manages a domain or an IP address? Or if a domain is actually available? You may want to contact a website administrator or domain manager at a certain point.
G Suite.Tools' free WHOIS tool is designed to retreive in one click, and total anonymity, all the admin, contact, billing, registrant and provider information that the public WHOIS data provides for any domain name or IP address. It's perfect for verifying who's behind any website. Protect yourself against any spam/phishing attack and online data theft by simply knowing more on who/what you are communicating with.
The actual configuration of the WHOIS tool can query the assigned WHOIS server of 938 TLD (Top-Level Domain) extensions, including the most commonly used (e.g. .com, .net., .info, etc), the country-code ccTLDs (e.g. .fr, .de, .co.uk, .it, etc) and the more recent generic Top-Level-Domains gTLDs. In the case you query any IPv4 address (IPv6 compatibility is in progress), you'll receive a WHOIS response from one of the entities managing the different IP blocks of the Internet (e.g. ARIN, APNIC, RIPE, etc). This gives you a compatibility on a wide range of WHOIS queries.
Quick How-To
We kept it minimalistic. Enter the complete domain or IPv4 you want to query and press 'WHOIS'. Please clean your input from any prefix (e.g. 'http(s)://') or suffix (e.g. '/page12') before launching your request.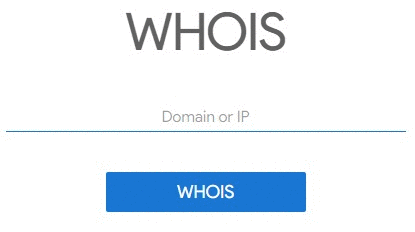 After a second, you'll get the complete public record for the domain or IP address you specified.
Results
Depending on the TLD or IP provider, a WHOIS response will gather different groups of metadata related to the target host.
Sample from the WHOIS response for "google.com":

Domain Name: google.com
Registry Domain ID: 2138514_DOMAIN_COM-VRSN
Registrar WHOIS Server: whois.markmonitor.com
Registrar URL: http://www.markmonitor.com
Updated Date: 2015-06-12T10:38:52-0700
Creation Date: 1997-09-15T00:00:00-0700
Registrar Registration Expiration Date: 2020-09-13T21:00:00-0700
Registrar: MarkMonitor, Inc.
Registrar IANA ID: 292
Registrar Abuse Contact Email: abusecomplaints@markmonitor.com
Registrar Abuse Contact Phone: +1.2083895740
Domain Status: clientUpdateProhibited (https://www.icann.org/epp#clientUpdateProhibited)
Domain Status: clientTransferProhibited (https://www.icann.org/epp#clientTransferProhibited)
Domain Status: clientDeleteProhibited (https://www.icann.org/epp#clientDeleteProhibited)
Domain Status: serverUpdateProhibited (https://www.icann.org/epp#serverUpdateProhibited)
Domain Status: serverTransferProhibited (https://www.icann.org/epp#serverTransferProhibited)
Domain Status: serverDeleteProhibited (https://www.icann.org/epp#serverDeleteProhibited)

Registry Registrant ID:
Registrant Name: Dns Admin
Registrant Organization: Google Inc.
Registrant Street: Please contact contact-admin@google.com, 1600 Amphitheatre Parkway
Registrant City: Mountain View
Registrant State/Province: CA
Registrant Postal Code: 94043
Registrant Country: US
Registrant Phone: +1.6502530000
Registrant Phone Ext:
Registrant Fax: +1.6506188571
Registrant Fax Ext:
Registrant Email: dns-admin@google.com

The first part gives you important information about the domain's registrar and different critical dates (creation, last update and expiration). This WHOIS server also declares the several statuses of this domain, linking to ICANN extensive documentation.
The second part prompts a full coverage of the registrant identity and contact info. This is useful to start communication with a website or domain manager. Note that if a registrant decides to use any WHOIS privacy service, its public information will be swiched by some alternative entries, most commonly some generic contact info of the domain host.
Tips